(Listed in episode date.)
1. Chuck Norris Action Figure: In this episode Tom blends Chuck Norris action figures and bad guy action figures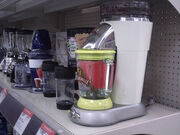 from his movies, he lets all of them get blended except for the Chuck Norris action figure.
2. Crowbar: In this episode Tom doesn't blend the crowbar, but a bunch of cellphones instead of the crowbar because the crew's phones were ringing on set.
3. The rest of the blended Tiki Torch: Dickson blends most of the Tiki Torch but not all of it.
4. Sign on the picket from the striking producer: Tom blends the picket but doesn't try and put the sign in the blender and instead he crumples it and throws it on the ground.
5. Chunk Of Boron Steel from Ford Fiesta: Tom realizes it will take forever to blend so he takes a ride in a Ford Fiesta.
6. Metal back cover of an iPad: It fell off after Tom broke the iPad on the blenders base, and then he doesn't blend it.
7. Screen portion and the enter key of the Chrome Notebook: Tom never blended the screen in the video, and before he blends the bottom half the enter key is missing.
8. Sonim XP3300 Force: The cellphone is put in the blender, and while most of the case is blended the main phone appears to only be broken. however it may still function as hinted at by the ending.