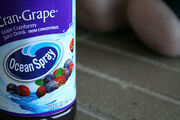 The following are quotes about Blendtec from different companies.
"The consistency we get with the Blendtec BDI and BD8 is absolutely fabulous. It is one of the main reasons our customers continue to come back to us and order the same drink every day, every week, or actually try new products because they know what they get today is what they are going to get tomorrow and the following."
- Charles Ballard VP of Operations Nestle
"We wanted a blended smoothie product. We didn't want a pre-made product. Our gold standard was to have a blended product. So we went out and did an evaluation of all the top blending equipment out there and just based on paper we found that the Blendtec product was the best product on the market. Then we started working with the people at Blendtec and we found that they were great people, not just a good blending company."
Paul Colligan Development Manager Ocean Spray
"Blendtec, per se, has been reliable, it has been consistent, which is important in a product. Customer service has been fantastic, outstanding to the point that you need something, you get it. If there is something wrong with a piece, boom, you get it. Blendtec, again, has been fantastic on response time. I am very pleased with their equipment and what it does for our product."
- Mario Feijoo Owner/Operator Planet Smoothie