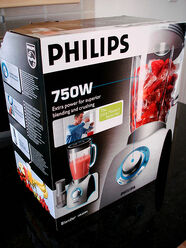 Dickson has revealed that the campaign has been a great success for Blendtec: The campaign took off almost instantly. We have definitely felt an impact in sales. Will it Blend has had an amazing impact to our commercial and our retail products. Blendtec now sells Will It Blend? merchandise, including a spoof shirt with the slogan "Tom Dickson is my Homeboy".
Dickson has made many national television appearances, including NBC's The Tonight Show with Jay Leno on March 30, 2007, on which he blended a rake handle in mere seconds. Dickson also made his appearance in the History Channel series Modern Marvels. In the episode World's Strongest III aired March 6, 2008 the show ends with a special Will it Blend to prove if he can blend the channel's longest running series (in the form of a portable MP3 player).
In April 2007, radio station KDRF (eD-FM) in Albuquerque, New Mexico enlisted Tom Dickson to do a Will It Blend? version to promote the radio station. The three 30-second commercials show different styles of music CDs being blended, showcasing the station's variety format.
In September 2007, the videos earned the second highest annual payout of about US$15000 from the video hosting service Revver.
In 2008, Will It Blend? was featured on a Dreyer's Dibs commercial. In the commercial, a girl holding a large lollipop tries some Dibs and wonders what will happen to lollipops when kids stop buying them in favor of the bite-sized ice cream treats. The next scene shows giant lollipops being used as an alternative to waxing a man's hairy back before Dickson blends them. A second version of the commercial has Dickson himself being waxed.
As far as awards, Will it Blend? has been nominated for the 2007 YouTube award for Best Series, winner of .Net Magazine's 2007 Viral Video campaign of the year and winner of the Bronze level Clio Award for Viral Video in 2008.
The iPhone episode of Will It Blend? won Ad of the Week in episode 8 of the Australian show The Gruen Transfer.
As of August 10, 2011, the Blendtec series of videos had collected a total of 168,946,651 views on YouTube.