Will It Blend?'s 2 Camera episodes are part of a two part series.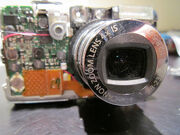 On the April 3, 2007 episode, Dickson placed a camcorder in the blender, giving viewers a first-person look inside the container while being blended.
Views:1,479,932
Shortly afterwards, the production team, Kels Goodman and Ray Hansen, attempted to return what was left of the camcorder to Best Buy, with no success.Best Buy considered blending the camera as costumer abuse.
Views:520,634