(a mixture of salsa, 13 buffalo chicken wings, tortilla chips and a can of Budweiser)
Views:127,655
"S***r B**l Conference Blend-Off"
Edit
(two blenders blend small plastic football helmets, one set representing the AFC and the other one the Chicago NFL.
Views:104,899
"S***r B**l Blend-Off"
Edit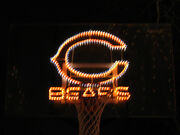 (A NERF football is placed in each of the two blenders, one representing the Indianapolis Colts and one the Chicago Bears.)
Views:1,648,967
==Trivia==
The word Super Bowl had to be bleeped out due to copyright concerns.